🇬🇧 Self-adhesive, iron-on and Quick arts labels for good children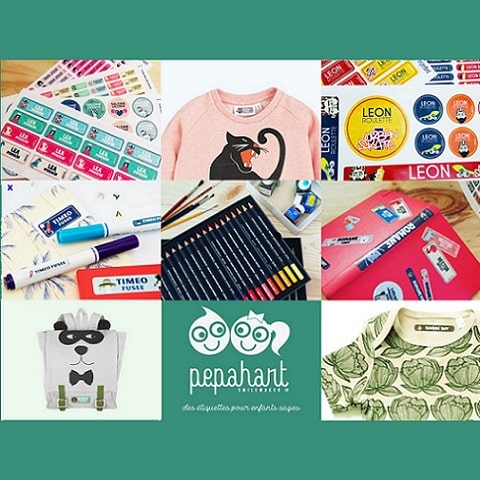 How it all began.
Passionate about graphics, design and art, PEPAHART was born in the imagination of graphic designers, with a colorful and varied universe for the greatest pleasure of children, but also of parents. We are the "SMILEMAKERS" of good child etiquette. Thanks to the personalized labels for objects and clothes offered in our WEB-SHOP, marking your children's belongings becomes child's play.
Our personalized labels in carefully studied packs
Today, we are responding to an increasingly growing need and that is why we have created PACKS Pepahart complete which adapt to the needs of each child (nursery, school, college, camp, allergy, etc.). And, to make life easier for parents, we have introduced a new generation of self-adhesive labels. Put away your iron, the "QUICK'ART" stick together in 3 seconds flat on the garment label and withstand the passage of the washing machine !!!
Our intuitive labels to differentiate the right foot from the left foot
We also wanted to develop children's autonomy by creating two ranges oflabels for shoes :
- The "INTUITIVES": simple, fast and effective, your children will start off on the right foot. It is enough for the child to reconstitute the image stuck in his shoes. (From 18 months)
- The "BICOLOR": for the older ones, in order to learn the difference between his right and his left.
Places and method of manufacture
All our personalized labels are designed and manufactured in our workshop in Île de France by our team. Using the latest HP water-based latex ink technology, Pepahart labels are non-flammable, non-combustible and very suitable for toddlers. For greater resistance, all our labels are laminated and do not fade over time. Easy and practical, Pepahart personalized labels for children make life easier for parents!!
Our secret
The secret of our labels, we have kept our child's soul ♥
Our social networks
To find out more, find us on social networks: