What size bike for an 8 year old?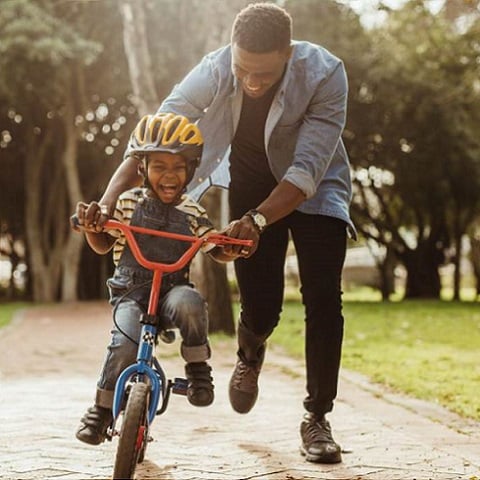 Your 8-year-old wants to ride a bike and you don't know which size to choose? Would you just like to give him a new one, because his has become too small? It's so easy to get lost in the different terms that the manufacturers indicate. Although choosing the right size can be difficult, it is not an impossible mission! Super moms, follow this guide to find the perfect bike for your budding cyclist.
Why should you buy a bike adapted to the morphology of your child?
A bike that adapts to your child's morphology guarantees both comfort and safety. A well-adapted two-wheeler ensures balanced pedaling. This allows him to pedal without hindrance and to have less risk of falling. Your little protege will thus be able to take full advantage of his bicycle. As for you, you'll have peace of mind while he's having fun.
It is wrong to think that taking a bigger bike saves you a new purchase when the child grows up. Not only will he take no pleasure in pedaling, but his safety may also be at stake. Indeed, he may have difficulty using the brake handles which will be too large for him. Big bikes are therefore not recommended, especially if your child is just starting to learn to ride a bike.
How do you know if a bike is the right size?
You can tell if a bike isn't the right size for your child without them even telling you. This can be seen through his posture. Remember that the two-wheeler is not suitable for its size if:
his toes don't touch the ground
his knees come up higher than his navel and touch the handlebars as he pedals
Normally, both feet should always touch the ground. Otherwise, it means that the bicycle is too big, which could cause a fall when your child stops pedaling. Also, the knees should neither go higher than the navel nor touch the handlebars. If so, it means that the bicycle is too small, which could interfere with his pedaling and tire him more quickly.
In addition, with a suitable bike, your budding cyclist must be able to easily climb onto the saddle (the frame of the bike is adjustable to his height) and easily grasp the brake handles.
What size bike fits an 8 year old?
As with adult bikes, children's bikes also have sizes, but these sizes do not work in the same way. If it's the height of the frame that matters for adult bikes, it's rather the size of the wheels that matters for children's bikes.
The sizes of junior bikes are expressed in inches, of which 1 inch corresponds to 2,54 cm. They come in various sizes ranging from 12 inches up to 24 inches. For 8-year-olds, who are usually about 130 cm tall, the size can vary between 20 and 24 inches.
It should also be noted that these figures are given for information only. While other children may look taller than their age, others look younger than their age. So, you should not only rely on these matches, you should also know the body type of your little cyclist. The ideal size of a bike is based more on the height than on the age of your girl or your boy.
8-year-olds are always on the borderline between two sizes
Don't be surprised, your 8-year-old child will almost always be on the borderline between two sizes:
20 inches for children between 6 and 8 years old
24 inches for children between 8 and 10 years old
In this case, if your junior rider's size is about his age or over his age, go for the size that is above, so get a 24 inch bike. Otherwise, take the one below.
How to measure the size of your child's bike?
To find out the exact bike size for your child, you need to take their measurements. For this purpose, you can use either a tailor's tape measure or a measuring board. The measurement is done quickly and as follows:
he must be barefoot and stand up straight with his legs stretched out
you must use a book, wedge it on its head and write a small mark in pencil (easy to erase)
you take the measurement with the tape measure
As the proportion between the legs and the bust varies according to each individual, you must also take into account the crotch. This particular can help you pick the ideal bike for your child. To measure it, he must always stand barefoot and straight. You need to measure the distance between his crotch and his heel.
A bicycle for a girl and for an 8-year-old boy: is there a difference?
Although there is no noticeable difference between the size of a girl and an 8 year old boy, there is still a difference between a girl's bike and a boy's bike. This difference can lie in the color, the model, or even the various accessories such as the water bottle, the knee pads, the elbow pads, the helmet...
So, in addition to the measurements you are going to take and the size matches you are going to check, it is best to take your child with you when buying their bicycle. This allows him to choose the model that is most to his liking. That way, his little two-wheeler is not likely to stay alone in the back of the attic or garage.
There is one last parameter you need to take into account. These are the practices that the bike can perform. As with adult bikes, junior bikes can also be adapted to various practices such as mountain biking, the road, the city, the ride... If your junior cyclist can learn about mountain biking and hybrid biking from the age of 6 , he must wait until he is around 9 years old to ride a road bike.