What size trampoline to choose for 2 children according to their age?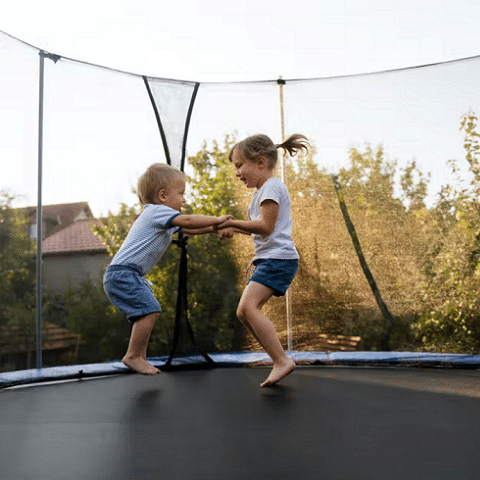 Among outdoor games, the trampoline is one of the most popular with most children. If yours is one of them and you have a large space in your garden, the idea might have already occurred to you. To ensure the safety of your toddlers, you must choose the right size, quality and model of the trampoline. Different parameters are to be seen, especially if you have more than one child. Discover them in this article!
The size of the trampoline according to the size of your garden
To install a trampoline in your garden, it is not enough to have space. Around the space where you are going to put it, you must have a space of at least 2 meters. This can go up to 4 meters if you opt for large trampolines. However, if you lack space around the installation, you can directly buy a trampoline with a safety net. With this, even a meter is quite enough.
This recommendation is specifically aimed at the safety of trampoline users. Even if you are not mother hens, the safety of your babies will always remain a priority for you. In the same vein, it should be noted that mini-trampolines are not recommended for children. The latter are mainly reserved for adults who do fitness exercises: they do not offer children the level of protection required.
The ideal place to set up the trampoline
The location of a trampoline is not done just anywhere in the garden. In addition to this surrounding space that you must have, the place must also be level. This is easily checked by placing a spring in the center of the mat. If it rolls, it means your floor is not flat. In this case, you need to dig the higher side. Stop when the trampoline legs are level. For this, you can redo the test with the spring.
The ideal place to install this favorite game of your children would also be a lawn. This remains a recommendation, but you should simply avoid putting it on hard floors such as concrete or a terrace. Furthermore, you must ensure that there are no branches around the trampoline and that there is at least a height of 7 m on the space above.
The need for a safety net
The protective nets have been designed to be able to jump in complete safety, without running the risk of falling outside the jumping mat. However, you must have noticed that not all trampolines are equipped with them. Do you have to ask for yours?
The major risk for trampoline users is falling to the ground. According to a Canadian study, this represents about a 16% risk of injury requiring an emergency room visit and a 47% risk of hospitalization. Due to the generally high price of safety nets, some people prefer to do without them.
It is not a choice that must answer a question of an economic order. The need for a safety net should depend solely on the size of the trampoline. If it is large, it is possible not to get one, even if your children are over 10 years old and agree to take turns playing. On the other hand, if it is small in size, it is strongly recommended to install one.
The different sizes of trampolines
You can find different trampoline models. It is always advisable to opt for a quality product, even if it may cost you more. This will ensure its durability and the protection of your children. As for the size, choose it taking into account their age and build.
The size of trampoline according to the age of your children
The use of a trampoline is possible from the age of 3 years. So, if one of your children is under 3 years old, we advise you not to put them on it.
– From 3 years old, you need a trampoline 2,5 m in diameter.
– From 6 years old, you can opt for a diameter of 3,5 m.
– From 10 years old, it is possible to choose a trampoline that is more than 4 meters. This type of trampoline can be used by adults. If you also reserve it for this use, be sure to buy one that supports a maximum load of 100 kg.
The ideal trampoline size for a good bounce
To make a great jump height, it is not enough to have a large trampoline. It is not the size that allows this, even if it allows more movements, but rather the number of springs. For a good bounce, you must have a canvas that is both dense and quality. What's more, it must be tight with many springs. So, to please your children, if you opt for a larger size, don't neglect the number of springs which can vary from one model to another.
The recommended trampoline size for 2 children
The ideal trampoline size for 2 children is 305 cm (size 10). If cousins ​​or neighbors are going to play with them, and if you have more space, you can choose a 370 cm model (size 12).
Rest assured, even if they play alone, you will not regret this choice. The trampoline is one of the games you never get tired of, even as you grow up. Your children are likely to jump on it even after their baccalaureate. We never regret having bought a trampoline that is too big, on the other hand, we can regret having one that is too small.
Some indicative prices of trampolines according to their size
It is clear that the price of the trampoline depends on its size. On the market, you will find prices that vary according to the diameter.
– For 1,4 m, it costs a little less than 100 €.
– For 1,8 m, the price varies between 100 and 150 €.
– For 2,5 m, it is between 150 and 220 €.
– For 3 m, the cost varies between 200 and 260 €.
– For 4 m, it is between 270 and 320 €.
– And for 4,5m and more, the price can go from 320 to 440 €.
When it comes to the cost of a trampoline net, it's usually around 50% of the cost of the trampoline.
Some useful tips for trampoline use
If you let your 2 children play together on the trampoline, always keep an eye on them, because even a protective net reduces the risk of falling outside the jumping mat, it does not rule out the risk of collision between them.
Always put a protective cushion to cover the springs. This helps to absorb any shocks. It also prevents your children's feet from slipping through the springs.
Don't forget to install all the trampoline accessories like the ladder. If the trampoline does not come with a net and you want to buy one, make sure it is compatible with the model you have chosen.
To ensure the stability of the structure, make sure that the legs of the trampoline frame are firmly anchored to the ground.